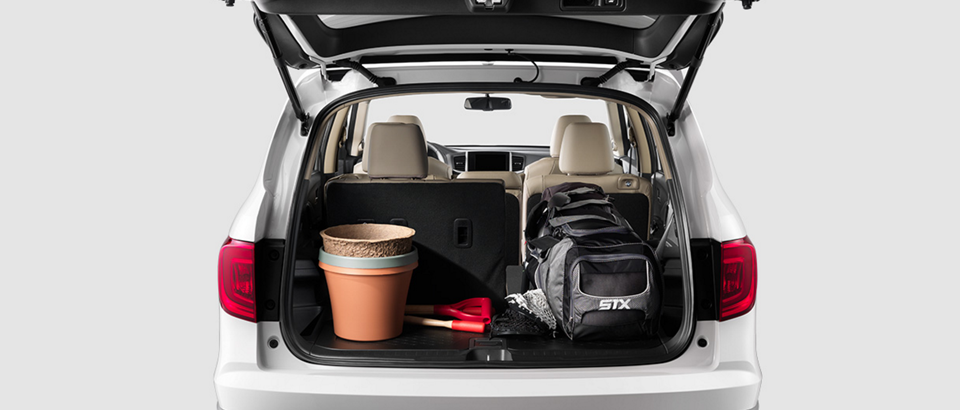 Whether you are going grocery shopping, buying some furniture, going on a road trip, or just bringing your children to school, the Honda Pilot makes it easy to take along everything you need. In addition to three rows of seating, any Pilot trim will give you plenty of cargo space with some extra storage available on the roof or through its towing capacity.

Honda Pilot Cargo Capacity
Even without doing anything special, the Honda Pilot gives you more than enough room for whatever you need to bring. With all seats occupied, the SUV will give you 18.5 cubic feet for backpacks or other items. If you only need two of the rows, then you will have 55.9 cubic feet. For those who need room for furniture, bikes, or other items, fold down both rear rows of seats. You can bring along anything you need thanks to 109 cubic feet for cargo. To keep this spacious area organized, opt for a cargo liner, cargo cover, cargo folding tray, or other related Honda accessory that was designed for your Pilot.
Roof Storage
Depending on the Honda Pilot trim level you choose, you may automatically get roof rails as standard. These make it easy to bring extra items along, whether they fit inside your SUV. Now you can bring along a surfboard or attach a rooftop carrier even when all seats of the Honda are occupied. If your Pilot doesn't come with roof rails, you can add them as an accessory. You also can do this with crossbars to make carrying items on the roof even easier.
Pilot Towing
Thanks to the V6 engine and the Pilot's sturdy construction, you can also bring extra items along in a trailer or even bring a small boat along. Models with front-wheel drive can tow up to 3,500 pounds. Opting for all-wheel drive can let you tow 5,000 pounds.
The team at Hendrick Honda Bradenton can answer any questions you have about the Honda Pilot's cargo capacity. Our Bradenton, Florida, dealership has a range of accessories designed to enhance cargo space and make bringing everything you need with you a breeze.