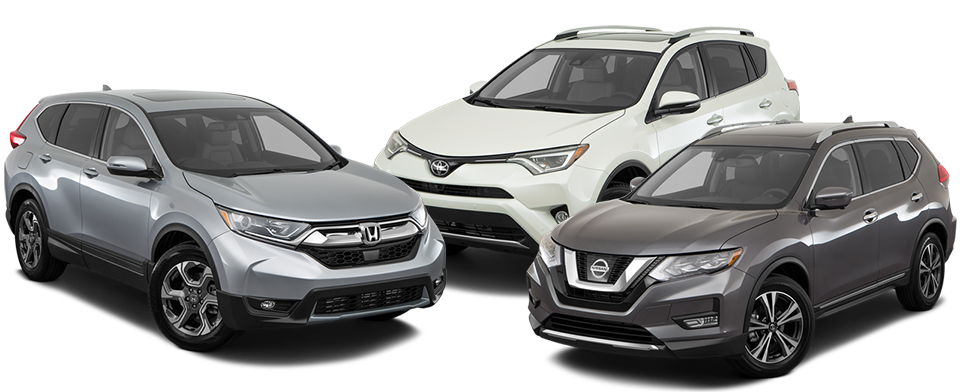 Do you ever watch boxing? Sometimes you pay top dollar for a pay-per-view fight, and it only lasts a few seconds because one of the boxers is so much better than the other. The same can happen with cars, too. No, you don't have to pay pay-per-view prices, but sometimes, one vehicle knocks out the competition without breaking a sweat. That's the case when the 2017 Honda CR-V goes head to head with the RAV4 and the Rogue.

The only question is, who is the winner? Which one knocks the competition down round after round?
2017 CR-V vs RAV4 vs Rogue: Safety
You can't have a true grudge match without looking at safety. After all, your family's safety is very important, so you need to pick a vehicle that is as safe as can be.
The 2017 Honda CR-V knocks out the RAV4 and Rogue when it comes to safety features. Out of the three vehicles, it is the only one that receives a 5 rating in all of the NHTSA driving tests. It's also the only one with an electronic park assist feature. This gives the CR-V a huge boost in the head-to-head fight.
That means Round 1 goes to the CR-V.
Can you see where this fight is heading?
Capacity and Volume: The Battle
You don't get an SUV so you can drive one person around town. You get an SUV so you can load up the family and your gear and go on an adventure. That adventure might be a little uncomfortable in an RAV4 or Rogue, but you will have plenty of space with the CR-V. The CR-V has more maximum cargo volume and passenger volume than the competition. It also ties with the RAV4 and beats out the Rogue in regard to towing capacity. That means you can tow your camper along for your next adventure or just hitch up a trailer for your extras.
Yet another round goes to the CR-V. Let's see how the final round goes.
Standard Features: CR-V Wins Again
Standard features keep the price down on a vehicle. If you have to constantly add extra features, that sticker price will go way up. The CR-V has tons of standard features that you won't get with these others vehicles, including automatic climate control, alloy wheels, and floor mats. You read that correctly. The CR-V is the only one of the three that comes standard with floor mats. Imagine having to drive to the store after buying a car to pick up floor mats!
In boxing, the referee will finally call the fight when the other boxer can't stand up to the competition. The same is true here. It's time to call the fight and visit Hendrick Honda Bradenton in Bradenton, Florida, to pick up the winner.