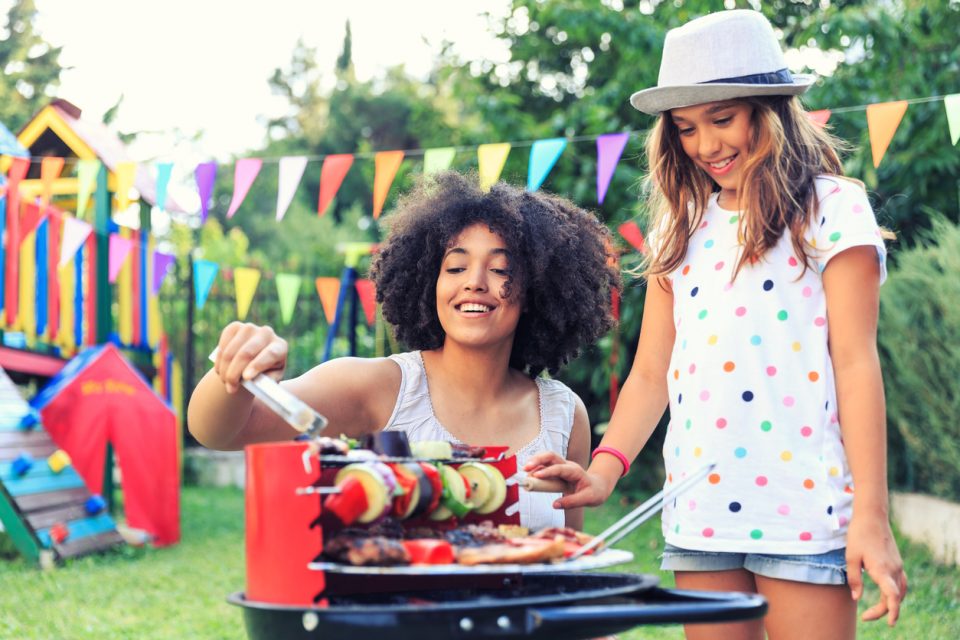 The warm summer weather makes for a backyard barbecue, and we know the key to hosting the perfect event. If you want to keep everyone happy with the menu, everything else will come together seamlessly! So, ensure the success of your event by adding these delicious options to your dinner spread.

Pork Ribs
What's a barbecue without Pork Ribs? Chow down on this delicious recipe.
You'll need: 4 pounds of pork ribs, 1 tablespoon of black pepper, 1 tablespoon of garlic powder, 1 tablespoon of white sugar, 2 teaspoons of salt, 2 teaspoons of chili powder, 2 teaspoons of ground cumin, 3 cloves of garlic, 1/2 cup of brown sugar, and 2 cups of barbecue sauce
Step 1: Start by preheating the oven to 300 degrees. Then, wrap the ribs and garlic cloves in aluminum foil. Bake in the oven for 2 1/2 hours.
Step 2: While the ribs are baking in the oven, begin preparing the spice rub. Mix together the white sugar, salt, black pepper, paprika, ground cumin, and chili powder.
Step 3: Once the ribs have cooled, rub the spices over them. Wrap them back up in aluminum foil and refrigerate overnight to allow the flavor to settle in.
Step 4: Next, it's time to heat the grill! While the grill is heating, take a bowl and mix some barbecue sauce with equal parts water for basting.
Step 5: Once heated, place the ribs onto the grill and cook for 10-15 minutes, basting with the sauce mixture until the ribs are perfectly browned and glazed. Sprinkle with brown sugar, serve with the remaining barbecue sauce and enjoy!
Brown Sugar Baked Beans
This sweet and savory side is a definite must-have for any outdoor summer event. Here's a recipe for baked beans that everyone can enjoy.
You'll need: Two (15-ounce) cans of white beans, 4 slices of bacon, 1 onion (chopped), 1/3 cup of ketchup, 1/3 cup of dark brown sugar, 1 teaspoon of apple cider vinegar, 1 teaspoon of Dijon mustard, 1 teaspoon of Worcestershire sauce, Kosher salt, and freshly ground black pepper
Step 1: First, preheat your oven to 350 degrees Fahrenheit.
Step 2: Next, cook the bacon in a skillet over medium heat until it's almost crisp. (This should take no more than 8 minutes.) Next, add the chopped onion to the pot and continue cooking for 5 additional minutes. Add one can of beans and their liquid to the skillet and stir. Then, drain and rinse the second can of beans and add the beans to the skillet. Stir once more.
Step 3: Pour in the ketchup, mustard, sugar, Worcestershire, vinegar, and 1/2 teaspoon of salt and pepper. Stir.
Step 4: Bring the beans to a low simmer. Once simmering, transfer the beans to a small baking dish and bake (uncovered) in the oven for about 45 minutes. Serve warm and enjoy!
Potato Salad
With the summer heat, a cool dish is in order. Whip up a delicious batch of flavorful potato salad – a backyard dinner staple.
You'll need: 5 pounds of russet potatoes, 6 whole hard boiled eggs (peeled and sliced), 4 tablespoons of yellow mustard, 1 1/2 cups of mayonnaise, 5 green onions (sliced), 2 tablespoons of fresh dill (chopped), 1 teaspoons of Kosher salt, 1/2 teaspoon of paprika, 1/2 teaspoon of fresh ground black pepper, 10 whole small sweet pickles (sliced), and 2 tablespoons of pickle juice
Step 1: Start by cutting the potatoes in halves. Once each potato has been cut, boil them until tender. Drain the water and mash the potatoes.
Step 2: Next, fold the potatoes together seasonings, mayonnaise, and mustard. After everything is mixed well, fold in the pickle juice, pickles, and eggs. Taste and add extra seasoning if desired.
Step 3: Refrigerate and serve cold.
Now that you've got these staple dished ready for your backyard barbecue celebration, you're almost set for summer! Finish things off with a high-quality vehicle from right here at Hendrick Honda Bradenton. Our professionals look forward to assisting you with your purchase. With a Hendrick Honda vehicle, your next summer adventure is only a short drive away!