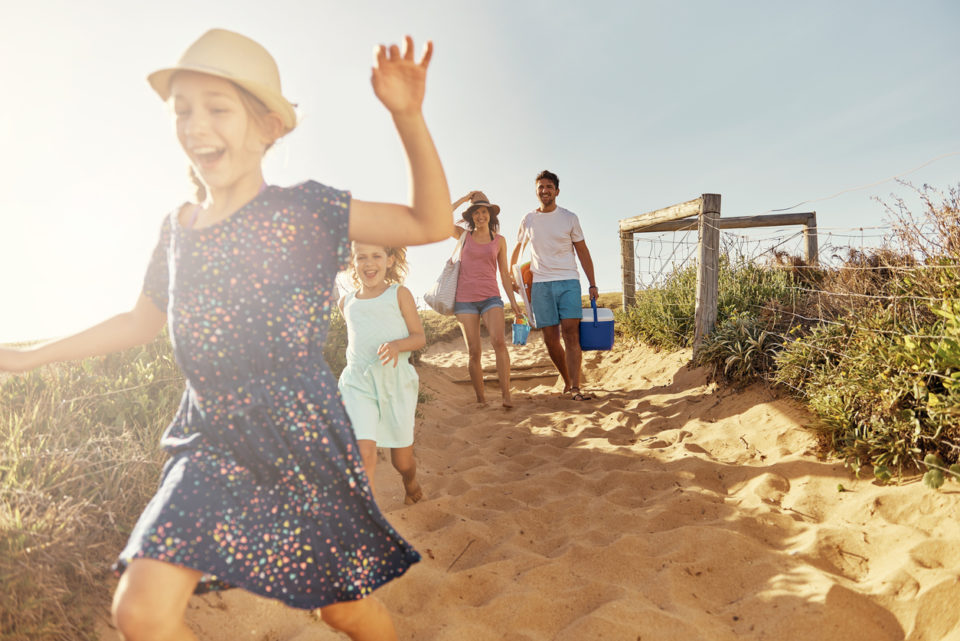 Packing food for the beach is no easy task – you have to consider the size of your cooler, the heat, and the requests of any picky eaters in your family. Try these easy beach foods for your next day in the sun!

1. Hard-Boiled Eggs
Hard-boiled eggs make a great beach snack – they're easy and packed with protein. Be sure to peel them in advance to save yourself the trouble on the beach.
2. Wraps
Wraps are an easy alternative to sandwiches, and tortillas are much less likely to get soggy in your cooler.
3. Rotisserie Chicken
One rotisserie chicken can easily feed several people, and it's delicious warm or cold. Bring some of the other sides mentioned in this blog and you've got a tasty beach meal!
4. Grain Salad
Tabbouleh, farro, and quinoa all make great grain salads. You can use veggies of your choice and any dressings, nuts, or cheese your heart desires.
5. Bars
Homemade snack bars are quick and easy and don't take up much space in your beach bag. Adding filling ingredients like nuts, oats, and berries will keep every snacker satisfied.
6. Kebabs
Kebabs are a fantastic way to get veggies and protein into one easy beach meal. You can also add hard cheese and dressing if you're feeling extra fancy.
7. Pita Pockets
Like wraps, pita pockets are a fun beach meal that's just as easy as a sandwich.
8. Smoothies
If you've never sipped a smoothie seaside, you're missing out! Throw your favorite smoothie into an insulated thermos or water bottle for a delicious, cool treat by the shore.
9. Lunchmeat Rollups
If you're really tight on cooler space, lunchmeat rollups will be your new best friend. Add olives, pickles, or mustard to the middle for an extra kick!
10. Grapes
Any fruit with a protective outer skin is a great option for the beach, but grapes can also double as ice cubes when frozen. When you're ready to munch on them, take them out of the cooler and let them thaw in the sun for 15 minutes.
11. Greek Yogurt
Pressed for time? Pack a few Greek yogurt cups! They're a hearty little snack with absolutely zero prep time.
12. Hummus
Hummus is a hearty and easy beach snack. Pack some cut veggies or pita chips to dip in it and you're all set.
13. Pasta
Pasta salad, leftover spaghetti, or a fresh pasta dish all taste great hot or cold on the beach.
14. Pretzel Rods
Say goodbye to soggy chips on the beach! Pretzel rods stay hard in your cooler or in wet hands and aren't as susceptible to crushing in your cooler.
You might also like: Visit These Bradenton Parks This Weekend
15. Trail Mix
Like pretzels, trail mix can stand up to a roll around in your beach bag or fresh-from-the-water hands. Plus, the variety of flavors keeps things fresh with every bite.
Which of these tasty treats will find its way into your beach bag?
Disclaimer: The stock image is being used for illustrative purposes only, and it is not a direct representation of the business, recipe, or activity listed. Any person depicted in the stock image is a model.