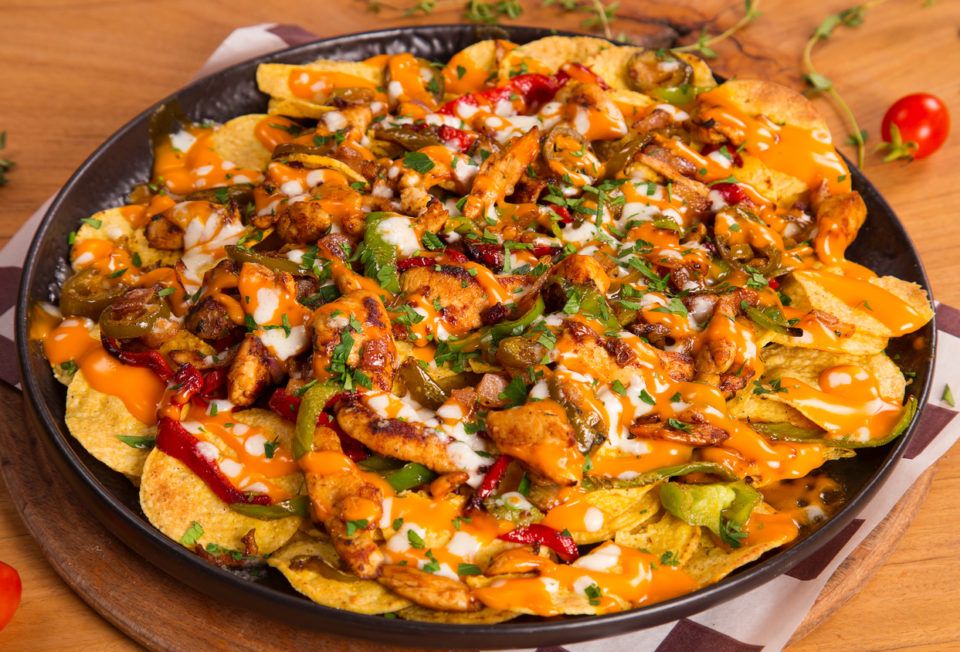 The legal team has given us a list of terms we can't use in reference to a certain college basketball tournament that begins every March. But we're not mad. Nope. We're hungry. That's why we want to share some delicious recipes for your hoops watch party that we are confident you will enjoy.

Super Nachos
Uh, yeah. You don't really have to know what's on Super Nachos to know that they are, well, super. Your mouth is probably watering already. But you do have to know what goes on them to make them.  That would be one pound ground beef, three-quarters cup water, one (1.25 ounce) package taco seasoning mix, one (18 ounce) package restaurant-style tortilla chips, one cup shredded sharp cheddar cheese, or more to taste, one (15.5 ounce) can refried beans, one (10 ounce) can pitted black olives, drained and chopped, one cup salsa, one cup sour cream, or more to taste, four green onions, diced, and one (four-ounce) can sliced jalapeno peppers, drained. Oh yeah, you'll also need some aluminum foil as well. You can probably guess the steps from here on out, but they are all available at the link above.
Super Deluxe Steak Nachos
Oh. Well, add in some "deluxe" to the "super" and it could be even better. Here's what you need for these: one (1 1/2-pound) skirt steak or flap steak, one teaspoon salt, one teaspoon freshly ground black pepper, half teaspoon ground dried chipotle pepper, one tablespoon vegetable oil, two tablespoons bacon fat, one yellow onion (diced), one teaspoon salt (divided), half teaspoon dried oregano, two (15 ounce) cans pinto beans (rinsed and drained), 1 ½ cups water or chicken broth (plus more as needed), one (14 ounce) bag corn tortilla chips, 12 ounces shredded cheddar cheese, 12 ounces shredded Monterey Jack cheese, two ripe chopped tomatoes (or more to taste), one avocado (peeled, pitted and diced), half cup chopped white onion, or to taste, one jalapeno pepper (seeded and minced), half cup sour cream (for topping), and half cup chopped fresh cilantro.
You might also like: Parallel Parking Step-By-Step
Easy Nachos With Refried Beans
For something simpler, try this recipe. It calls for one (16 ounce) can refried beans, one teaspoon garlic powder, one teaspoon onion powder, one teaspoon ground cumin, one (10 ounce) bag scoop-shaped tortilla chips, eight ounces Colby-Monterey Jack cheese (thinly sliced), and one (4 ounce) can sliced jalapeno peppers.
Disclaimer: The stock image is being used for illustrative purposes only, and it is not a direct representation of the business, recipe, or activity listed. Any person depicted in the stock image is a model.