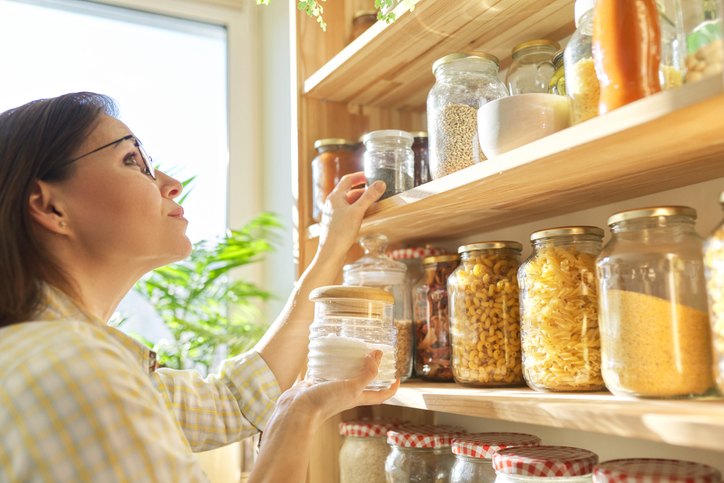 Are you tired of spending tons of money buying ingredients every time you want to cook? You can make some delicious dishes without breaking the bank by shopping in your pantry. Check out these easy pantry recipes that require basic ingredients you likely already have on hand.

Spinach Tortellini Soup
This recipe for spinach tortellini soup contains tons of ingredient shortcuts, making it an ideal option if you want to shop your pantry. You might want to consider using 20 ounces of tortellini instead of the nine ounces the recipe calls for when making this. It will still be soupy, but you'll love having the extra tortellini to dig into when eating.
Creamy Tomato Soup
Canned tomato soup isn't as good as homemade soup, but it's so easy. Fortunately, this recipe for creamy tomato soup is almost as simple as opening a can and putting it on the stove. At the same time, it has the delicious flavor you expect with homemade soup. You'll use a bunch of your pantry staples to make it, and when you're done, you'll love the results. It's delicious as-is, but you can improve it by adding two tablespoons of tomato paste before putting in the flour. When the soup starts to simmer, throw in a couple of tablespoons of sugar. These extras put it in a league of its own.
Applesauce Waffles
Are you out of milk and eggs but want to chow down on waffles? This recipe for applesauce waffles has you covered. The applesauce keeps the inside of the waffles moist and delicious, while the outside is crisped to perfection. Consider adding a touch of vanilla to the recipe to bring out the flavor.
Lentil Sloppy Joes
Your pantry is likely full of many of the ingredients you need for these lentil sloppy joes. Even though it has lentils, the recipe is kid-friendly. The little ones won't even know it has lentils in it. If you like a little kick, add some hot sauce to the recipe. It will spice it up quite a bit. You can also add just a bit of ketchup when you combine the beef and lentils. The ketchup adds a hint of sweetness, plus it helps the sloppy joes stick together.
You might also like: Another Reason Why Tire Pressure Matters
Spicy Three-bean Pantry Chili
The name says it all. This recipe for spicy three-bean pantry chili was created for people who want to shop in their pantries. You can choose the beans to use and combine them with other easily accessible ingredients. It's simple to make and delicious, so you'll definitely want to try it.
These recipes can help you save some money when cooking. You can use the items in your pantry and still get a delicious meal in the process.
Disclaimer: The stock image is being used for illustrative purposes only, and it is not a direct representation of the business, recipe, or activity listed. Any person depicted in the stock image is a model.