To profit from all the benefits of the HondaLink Next Generation, your Honda requires special cabling for the iPhone 5S, 5C and 5. The kit is available online through hondanavi.com. Honda dealers may also wish to keep a supply of cable kits. The cable kit package includes an HDMI cable and adapter, to connect the iPhone 5 to the display audio system panel and a USB cable that will be primarily used to charge the phone. To connect the iPhone, follow these steps:

Step 1: Turn the vehicle on by pressing the engine Start Stop button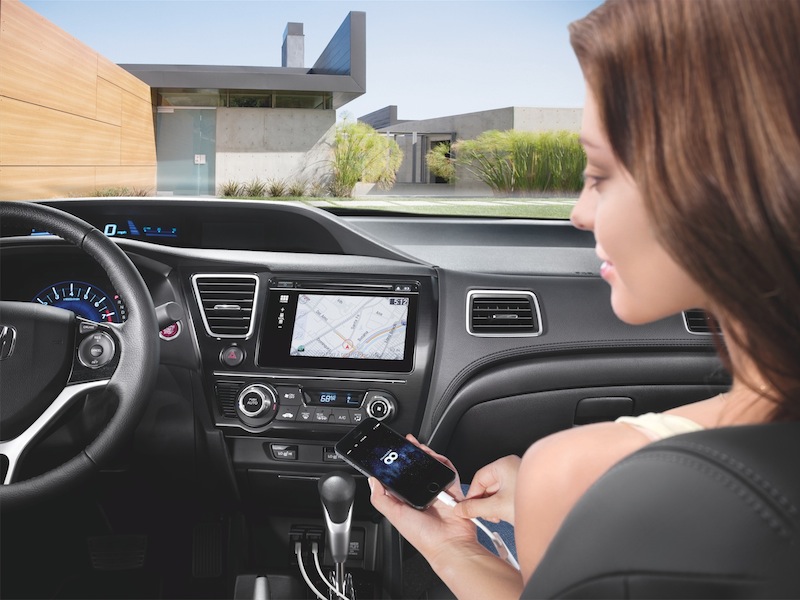 Step 2: Go to the settings menu on the iPhone; select Bluetooth; then turn Bluetooth on to make the iPhone discoverable
Step 3: On the display audio screen select Settings/Phone/Bluetooth device list/Add Bluetooth device then select Continue
Step 4: Select the phone name from the list displayed on the display audio touchscreen
Step 5: Press pair on the iPhone
Step 6: Connect the HDMI and USB cable to the HDMI and USB ports below the display audio panel and to the lighting adaptor, then connect the adaptor to the iPhone
Step 7: Press Allow on the iPhone
Using the AHA App
To enjoy all of the Honda Link AHA app features start by logging into the HondaLink apps, then log into the AHA app and open it on the phone before connecting it to the vehicle. Tap add stations or featured stations. At this point you'll see a list of station categories; browse the different categories and press the plus icon to add a station to your station's list. You can add up to 35 station presets. Note that Aha stations must be set on the phone before they can be viewed on the vehicle's touchscreen. Once you see your presets, connect your phone to the vehicle. Start at the main screen and touch the Audio icon; then Source; then Aha. At this point, you'll see your list of stations. HondaLink AHA displays featured stations to help customers find rich content. From the Aha menu, select the feature stab to experience these stations. Go back to the nearby tab and you can get local weather, find gas stations and so much more.
For additional information go to hondalink.com or call 888-528-7876. Better yet, visit our Honda experts at Hendrick Honda Bradenton, schedule a test drive and find out everything there is to know about your dream car.